It simply cannot be overstated how difficult the pandemic has been for performing arts organizations. In March, when spring was in full swing, live performances were suddenly interrupted. Some companies have chosen to "go dark" and wait, hoping to be able to return to the scene later in the year.
By the end of the summer, it was clear that wasn't going to happen. Many dance and theater companies, desperate to re-engage their audiences and continue to generate revenue, have raced to create and monetize content online. The results have been mixed.
But throughout 2020, the artists and administrators of Smuin Contemporary Ballet have found success with a much different approach. Not only did they keep their dancers on the job and their local audiences engaged, they built new audiences in unexpected ways. And they are creating and presenting new works – an unheard of feat during this pandemic. They even managed to put on a few intimate outdoor shows for diners at John's Grill downtown.
When asked what drove the company's innovative and aggressive approach to the challenges of the pandemic, Artistic Director Celia Fushille said, "The big word this year is 'connection.' they feel isolated; they need to know that we are there for them. We can't wait to be back on stage, but in the meantime we have found other ways to engage with our audience."
Judging by audience reactions – captured in real time via a unique online platform that simulates a live performance experience – the company has indeed engaged and inspired audiences. Smuin's virtual fall season included four programs, each featuring a "group" of four dancers performing ballets from Smuin's repertoire, as well as new works and dance films.
After each performance, the public was invited to chat with the dancers via a live Q/A on Zoom. In preparation for the season, each group of dancers worked together in isolation under strict COVID guidelines – some of the dancers already live together – and the performances were filmed in a spectacular outdoor setting.
Smuin artists Lauren Pschirrer, Brennan Wall and Tessa Barbour, who will perform on Smuin's C program
Fushille says, "The response from our audience has been so gratifying. They have been generous with their donations and appreciate our efforts.
The company also offered a full range of line dance lessons, from ballet and tap to jazz and hip-hop. In March, the company had just started its first-ever semester of classes at its new Potrero Hill studios. When the Shelter in Place order fell, they quickly switched to virtual classes. Much to the surprise of Fushille herself, the classes attracted an even wider range of participants than expected.
She says, "We have people logging in regularly from all over the country; we have participants in Germany! Some participants say they would have been too embarrassed to take a class in person, but they feel comfortable doing it from home. Of course, we will resume in-person classes when it is safe, but some of these online programs will certainly continue in the future.
This month, the company will present the 25th anniversary edition of its popular holiday production, The Christmas Ballet. The show will be presented online in three different programs, filmed in a fully lit theatrical setting and performed by groups of four costumed dancers. Each program will feature classic favorites as well as new works.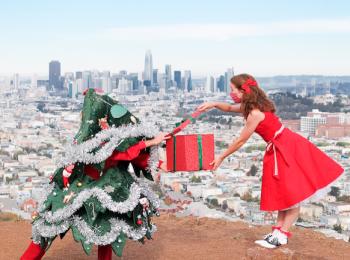 Smuin artist Maggie Carey, performing in Smuin's B Program
Schedule B includes the world premiere of Smuin alum Rex Wheeler's "Snow Day" on Johnny Mathis' iconic "Sleigh Ride." Wheeler – better known in San Francisco's LGBTQ+ community as drag queen Lady Camden – acknowledges that this has been a tough year for people working in creative fields.
He says: "Sometimes you want to be creative and productive, sometimes the best thing to do is to stand still and reflect on what this time has taught you. Now I really realize that our time is very valuable. creative stuff isn't just fun, it's really important. If I don't feel like myself, sometimes I do little things like… put rhinestones on a dress or take silly pictures. Those things might have seemed trivial in the past, but it's so important to keep your brain happy and find joy."
Wheeler was thrilled to choreograph for Smuin again, saying, "I'm so grateful for Celia's commitment to me and letting me continue to be part of the Smuin family. Choreographing via Zoom isn't ideal, but having the challenge of doing a ballet made me think, 'Oh yeah, this is who I am. I almost forgot.'"
He says "Sleigh Ride" was a great opportunity to do a piece that's just fun: "There's a side to me that's silly. I haven't always been able to do that on stage, but more j experience and more The more I hang around, the more I embrace my humor. For this piece, I felt nostalgic about being a kid, playing in the snow, knocking on our neighbors' door. I think that 'Right now we all wish we could knock on our neighbor's door and have fun together, so I hope this piece helps people tap into that nostalgia.'
Wheeler goes on to say, "Not everything has to be serious. Right now, we desperately need a culture where we're able to just be ourselves. Go out and be unfiltered and silly, if that's who. we are. That's what we fall in love with. We don't fall in love with filtered things.
"The Christmas Ballet" airs from December 11 to 24. Tickets : www.smuinballet.org
Help keep the Bay Area Reporter going during these trying times. To support local, independent and LGBTQ journalism, consider become a member of the BAR.