The desire to show us how easily the flexibility of the venerable language of ballet can find its way into contemporary art may have inspired Helgi Tómasson's final season as San Francisco Ballet's Artistic Director and Principal Choreographer. The three pieces he chose for the second program of his departure, performed from February 3 to 13, included his own 2014 "Caprice" and Jerome Robbins' "In the Night", choreographed in 1970 for the New York City Ballet. (much to Balanchine's dismay). But the local premiere of William Forsythe's 'Blake Works' capped off the evening with intriguing ideas, excellently performed.
Forsythe is the American choreographer who, in the 1980s, flew to Germany, where many of us thought he was lost for ballet. But there he expanded his repertoire to include language, visual arts, music and theatre, subjecting and deconstructing each to their formal bones. The resulting works, complex, complex, sometimes irritating or overwhelming, have made him one of the most important living choreographers. They speak to both the brain and the heart. You never walked away without realizing that everything you saw had merit.
So perhaps it made sense for Forsythe, in what some have called "a love letter to ballet," to create the 2016 "Blake Works" for the Paris Opera Ballet, one of the greatest classical ballet companies in the world.
The half-hour "Blake Works" is set to seven excerpts from British electronic pop star James Blake's emotive song cycle "The Color in Anything." Blake keeps the vocals at bay, and there were times when I wanted to see how the choreography popped up, not just in the music but in the lyrics. It just seems that if you use text, we have access to it. Still "Blake Works" is an incredibly complex choreography in which Forsythe slices and reassembles overlapping groups, from which small units can emerge. A thrilling but non-intrusive rhythm suggests a club scene. Everyone is dressed in light blue except, at one point, Joseph Walsh who is in black while energetically teaming up with a tough Julia Rowe.
The spirit of "Blake Works" is cheerful with a great sense of playfulness about it. Rarely have I seen the company appreciate its tasks so clearly. But there is nothing spontaneous in this "rom". The work is very structured with, for example, different sets, perhaps competing for space, but stacked on top of each other like layers on a cake. The changes are so rapid that the eye can hardly follow. Verticality and speed dominated. Bras – these distinguished classical ballet port de bras have their own moment of shooting, curling and bending with thrusts.
In the opening moments, arms at shoulder level stretched into a collapsing wall in fluttering hips and teasing shoulders. Sasha De Sola and Rowe initially retired from the set. For the finale, a smiling De Sola gave us an evaluation of this delicious gift. Stepping out of the group, she casually descended. Her body said it all, "What fun was that."
Program II opens with a tribute to ballet. Traditionally, the pas de deux, always a male-female duet, is the culmination of classical ballet. A complex and demanding choreography celebrates a romantic relationship, sometimes a marriage. With his non-narrative "Caprice" from 2014, set to a symphonic work by Camille Saint-Saens, Tómasson lovingly made the pas de deux the subject of his choreography.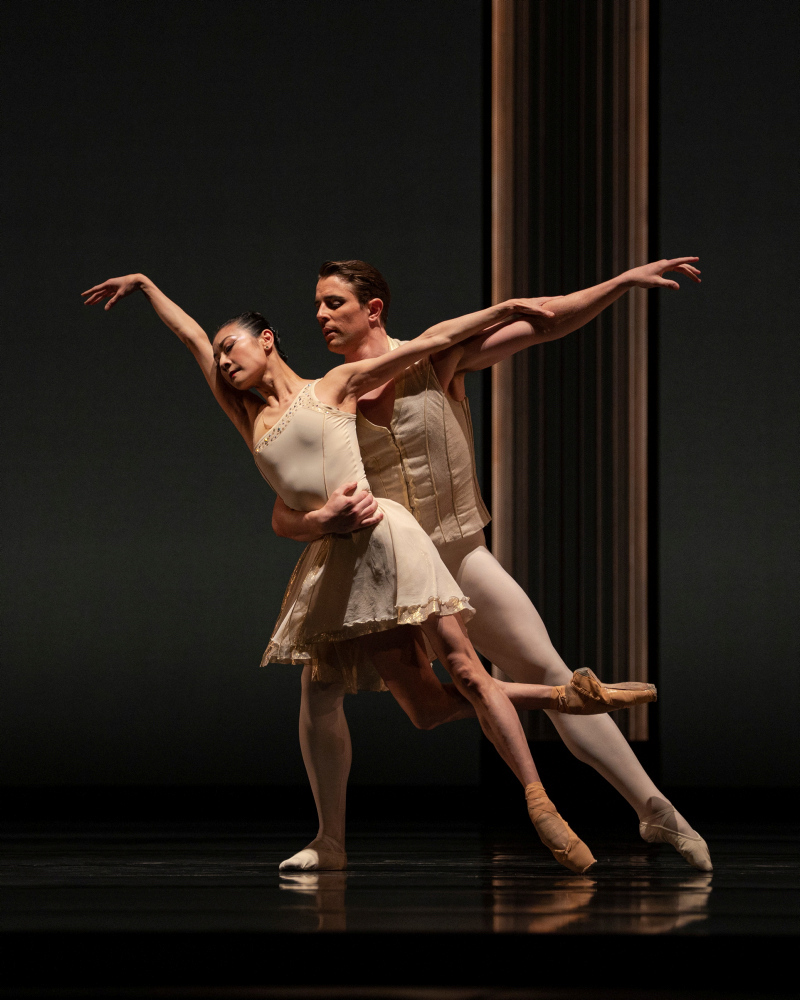 Angelo Greco first teamed up the Misa Kuranaga fleet in a series of rapid lifts and dynamic turns, until suddenly he slid it across the ground like ice. A small body in the background doubled this duet as if to pay homage to the dancers. The second movement couldn't have been more different. Luke Ingham teamed up with the singular Yuan Yuan Tan, who joined the company in 1995 and is still a wonder to behold, as she opened, stretched and folded her remarkable limbs, going beyond what seemed reasonable.
No wonder Tómasson gave Ingham three other men (Hansuke Yamamoto, Steven Morse and Henry Sidford) to develop Tan's lyrical potential. The third movement brought the two couples together, emphasizing the similarities and differences of Tan and Kuranaga. The concept of this ballet may have been simple, but the clarity and musicality with which Tomasson produced it made it a gem of neo-classical dance.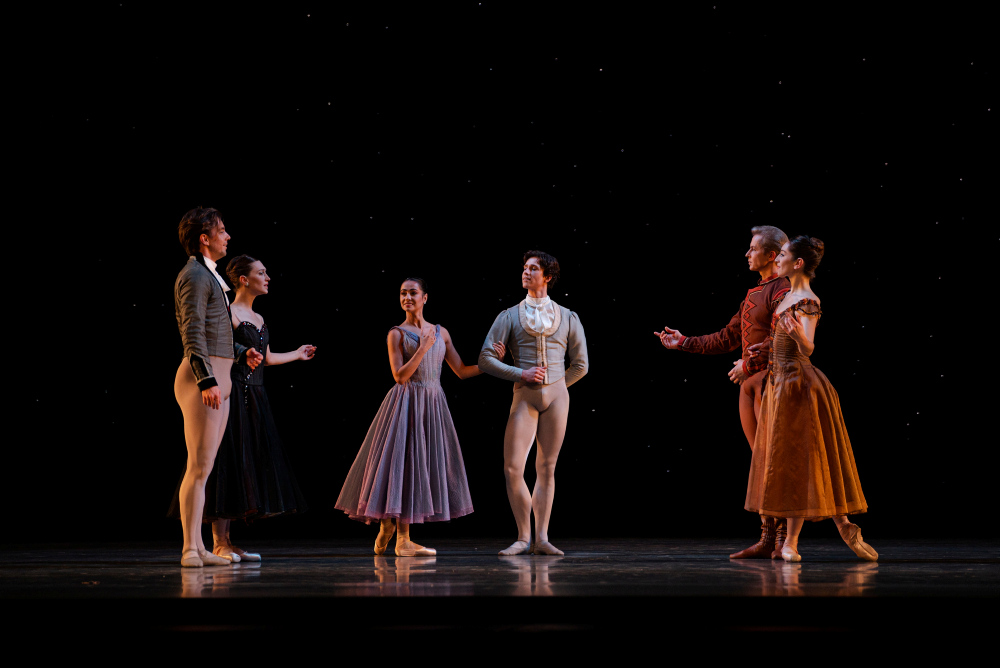 Program II also featured "In the Night", which has to be one of Robbins' most popular works. Against a backdrop of starry skies and Chopin's nocturnes, three couples explore their relationship. They have stories to tell, not really explained, but certainly suggesting experiencing love in some way. Mathilde Froustey and Benjamin Freemantle are young people caught up in a whirlwind relationship that takes them in and out of each other's arms. The lifts of Fremantle and the whipping turns of Froustey seem to run away on their own. As they walk, both seem caught in a dream.
The stiff-necked formality with which Jennifer Stahl and Tiit Helimets walk around speaks of familiarity but not closeness. Maybe their relationship has hardened, but habit is the chain that binds them together. An even more painful relationship was that between a furious Sarah Van Patten and patiently suffering Ulrik Birkkjaern. They cling to each other and achieve a physical proximity that borders on violence. But both leave the scene arm in arm. Robbins adds an almost cynical finale when the partners return and exchange pleasantries. It made you wonder what Robbins thought about social relationships.